Programme Structure for Year Two Entry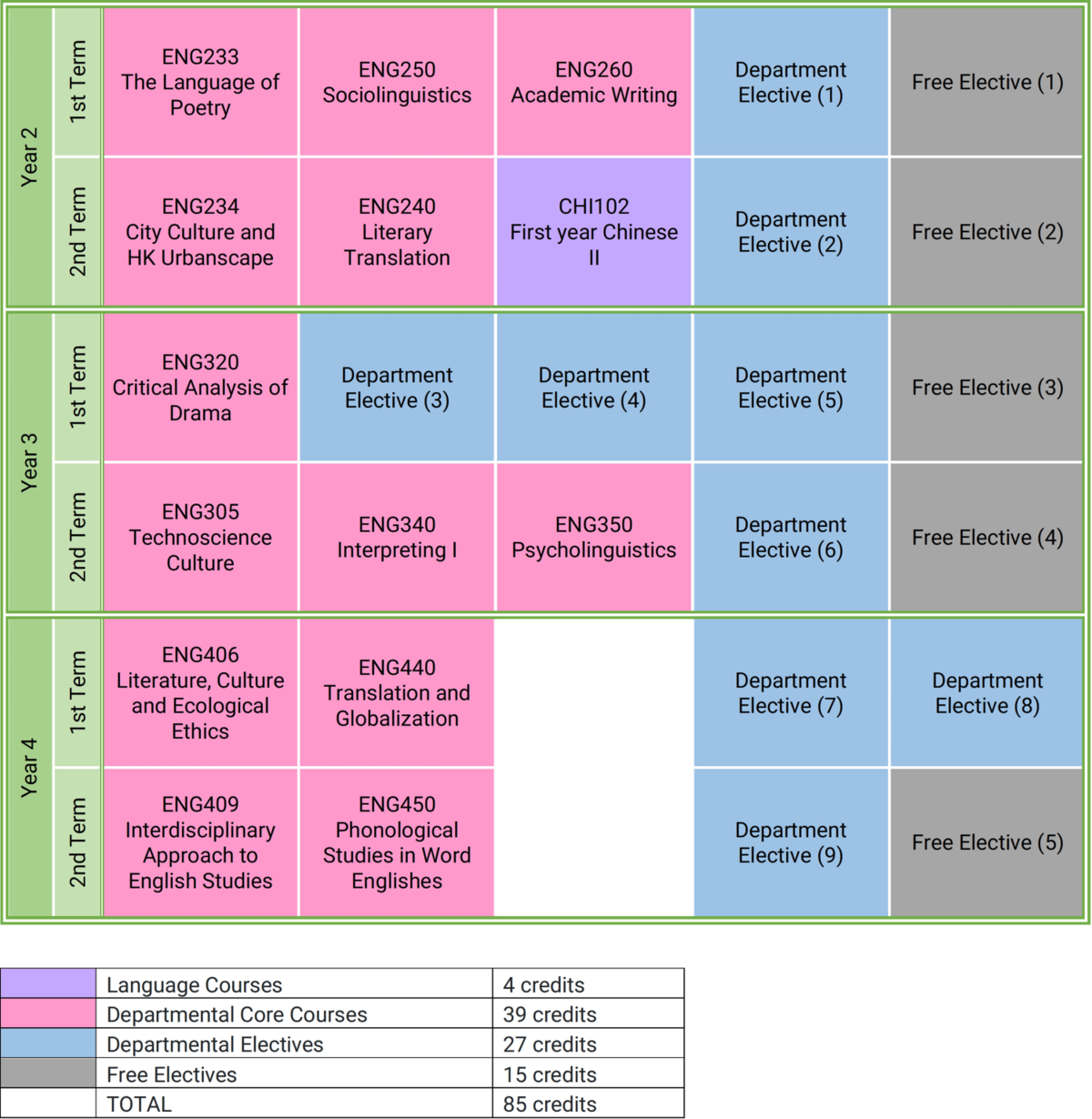 Download Department Courses Information: PDF
For more information of General Education, please visit https://www.hksyu.edu/en/education/general-education.
Year-2 entry students are required to take CHI102 First Year Chinese II, but they are exempted from all other Year 1 courses. Since Years 2 to 4 of the programme include required core courses in Literature, Translation, Cultural Studies and Linguistics, Year-2 entry students who have not previously studied one or more of these subjects are encouraged to audit the relevant Year 1 introductory course(s) (listed below):
| Code | Course |
| --- | --- |
| ENG120 | Introduction to Literature |
| ENG140 | Introduction to Translation |
| ENG153 | Introduction to Cultural Studies |
| ENG160 | Introduction to Linguistics |
---
Auditing the course means that you will not be required to complete the course assessments, but you can attend lectures and tutorials, will have access to all the learning materials and can consult the course lecturer for advice.
---
Latest courses requirement:
2022-2023 Entrants
Year 2 Requirements
| | |
| --- | --- |
| Language Requirement | 4 credits |
| Core Courses | 15 credits |
| Department Electives | 6 credits |
| Free Electives | 6 credits |
| TOTAL CREDITS FOR YEAR 2 | 31 credits |
Year 3 Requirements
| | |
| --- | --- |
| Core Courses | 12 credits |
| Department Electives | 12 credits |
| Free Electives | 6 credits |
| TOTAL CREDITS FOR YEAR 3 | 30 credits |
Year 4 Requirements
| | |
| --- | --- |
| Core Courses | 12 credits |
| Department Electives | 9 credits |
| Free Electives | 3 credits |
| TOTAL CREDITS FOR YEAR 4 | 24 credits |